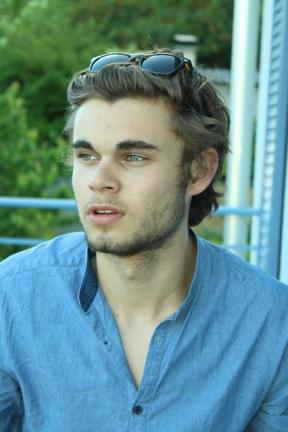 Arnaud Paolini was born in Neuchâtel in 1996, the city in which he grew up. He was soon attracted by artistic expression, ranging from theatre to music. He started playing the electric guitar at the age of 10 at the BMM74 school in Neuchâtel. He very quickly had the opportunity to make his first steps on different stages in the region through this infrastructure which offers a modern and current learning, based on instrumental technique and group play. For 5 consecutive years, he took part in the school's regional tours.  
With 3 passionate friends, he then founded Disponible 2, a project in which he composes, sings and plays the guitar; he learns how to approach concert halls and festivals. This group will take him to Paris to record a first studio album with the renowned sound engineer Bernard Natier. 
After 3 years spent at the Lycée with a music option, a desire to become musically professional was awakened in him. He then tried his luck by enrolling at the Haute Ecole de Musique de Lausanne in a new section created by Stephan Kohler (Mandrax): Contemporary music. After 3 days of selection among several candidates, he obtained the only place in guitar and joined 5 other students chosen for this new adventure. The masterclasses follow one another, the learning is intensive, and he meets them one after the other. 
With the drummer of his section, Valentin Kopp, he forms Chemical Fame, a project mixing the warm sounds of analog synthesizers with more organic instruments. They have the opportunity to perform on different stages, such as Montreux Jazz Festival, Le Romandie Club, Balelec Festival, the main stage of the Fête de La Musique de Lausanne...
Under the impulse of these new encounters, and with the benefit of a bachelor's degree in contemporary music from the HEMU, he created a collective with several friends and musicians from the HEMU called La Machinerie. The aim of this association is to highlight the musical culture and develop the careers of its members. 
Currently, Arnaud collaborates with several artists in their creative process, mainly focused on the production of titles but also on the playing of his guitar.