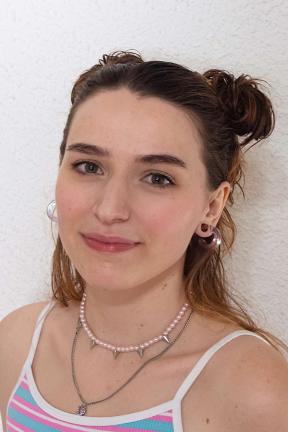 Born on June 19, 1997, I spent my childhood in the picturesque canton of Neuchâtel, specifically in the Val de Ruz. My early immersion in Japanese pop culture, illustration and video games, thanks to the influence of my parents and brothers, awakened my interest in the arts. This passion led me to join the de Meuron academy for a first year of initiation to general art, before going on to specialize and obtain a CFC.
Over the years, I developed a particular attraction for drawing and an unwavering love of botany. This naturally led me to train as a nursery gardener.
After acquiring this diploma, I joined Artline, where I completed a Bachelor's degree in Concept Art and Illustration. These two years, spent alongside seasoned professionals, not only strengthened my passion for art, but also awakened in me a desire to teach the art of drawing.
Currently, alongside my collaborations with Apolline, I'm shaping my career as a freelance artist, managing my own boutique and multiplying promising artistic projects.