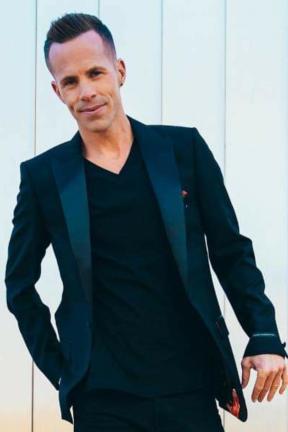 Mirko Rochat has always been an artist and from a very young age he disguised himself, invented characters and imitated personalities. His dream was to be an actor and to go to Paris. Life decides otherwise, he becomes a horticulturist after an apprenticeship.
In the autumn of 2011, he decided to perform in front of an audience at a comedy club. Buoyed by the audience and the desire to see what he is capable of, he will continue to perform, writing and creating his own sketches and universe. A few years later, his destiny caught up with him, reoriented his career and made him officially a comedian.
Spotted in 2012 by Jean-Luc Barbezat, who offered him a nice opening act in 2013 as well as a place in the Swiss Gala of Montreux Comedy in 2015, which propelled him into the comedy world.
In March 2017, he gave birth to his very first show "Supermâle".
He has been performing in French-speaking Switzerland for the past 10 years, including Belgium and Paris, and has had the pleasure of performing at French-speaking comedy festivals in Tel Aviv and Abidjan. He is versatile and can move around easily. He has performed at the Montreux Comedy, DécouvRire in St-Prex (2017), Morges-sous-Rire (2019), he has also played in revues (Fribug, la REVUE VAUDOISE by Cuche & Barbezat) at the Casino Barrière in Montreux and has participated with great pleasure in numerous galas in support of associations such as the Telethon, Zoé4Life, Porte-Bonheur, la Chaîne du Bonheur, etc. He is solicited for private and professional events.
He is currently presenting his second show entitled "En toute discrétion", directed by the talented French actress Antonia de Rendinger.
Today, through his classes, he wishes to transmit and create while having fun.  
What could be better than sharing moments together to refine one's posture, self-confidence, listening skills and have fun in a relaxed atmosphere.