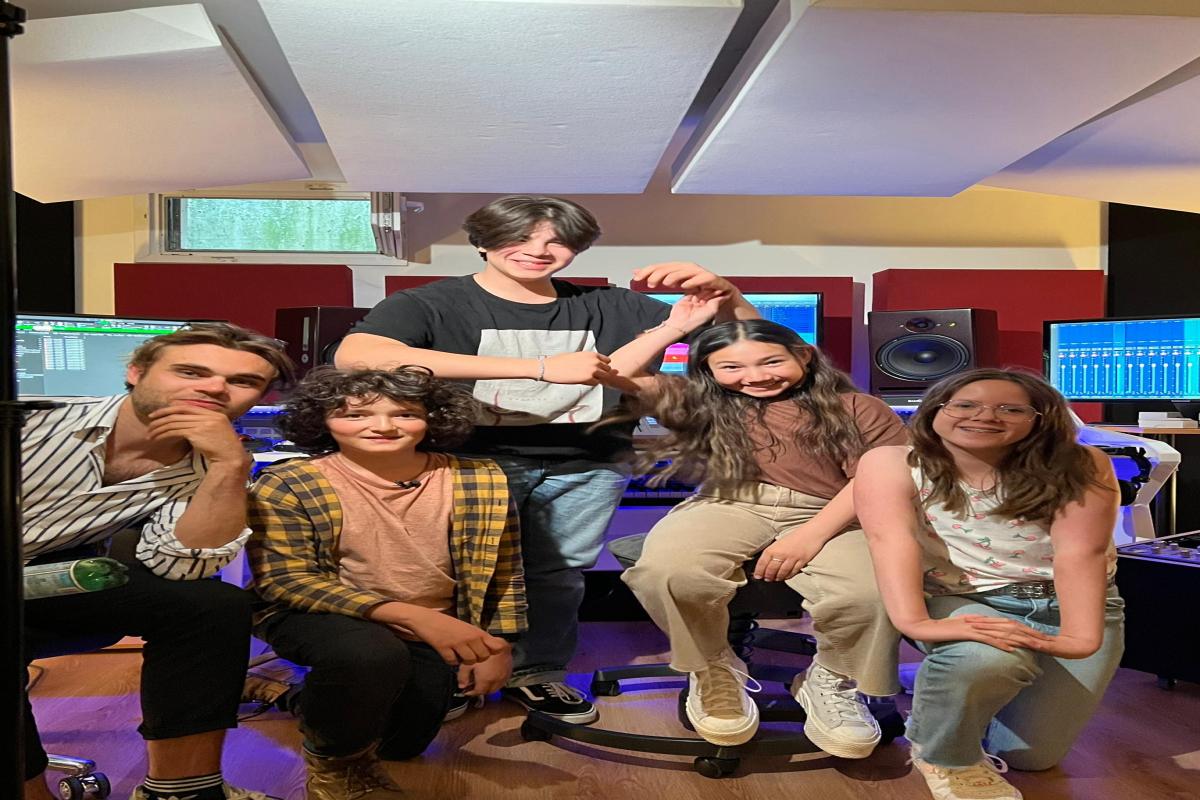 Apolline's students in the recording studio. A look back on an unforgettable day!
On April 30th, Apolline's workshop group, composed of students from the school, recorded a track at the "Under oak studio" in Gland. Here is a look back at this very emotional day.
For the second time, the school gave its students the opportunity to record a song in the studio, an exercise they accomplished with brio. The challenge was great. In addition to being filmed during their performance and between takes for the realization of an aftermovie, the young musicians gave their best to finalize months of work and preparation. Unlike the previous year, they recorded an original composition written by the band's singer Nina and arranged by their teacher Arnaud. The creative process was different. 
Creative process
Nina, who is taking lessons at Apolline and who is embarking on the "Swiss Voice Tour" adventure, proposed a song that she composed in piano voice and that already reflects the extent of her personality and musical maturity. Inspired by pop singers such as Adele, Olivia Rodrigo or the group London Grammar, her song "old memories" speaks of friendships that are dear to her and that can be so volatile. 
Arnaud then immersed himself in his universe to adapt the song to the rest of the band, and encouraged the musicians to take ownership of their part. Raphaël, guitarist, immediately grasped the nostalgic dimension of the song by proposing airy and "cloudy" guitar tracks with a sound full of reverb. Noah, pianist, instinctively played his piano line in a refined way to emphasize Nina's voice, respecting the "piano voice" side of the initial demo. And finally Helios, drummer, proposed a sober and soft percussive arrangement, to underline the dynamics of the various parts. 
You will be able to find the track soon on our networks with the video clip of the session, in the meantime find the cover of "The look" below, recorded last year. Stay tuned !  
https://www.youtube.com/watch?v=xQwmW_X8OiY 
Apolline propose des cours de chant à Lausanne ainsi que des cours de guitare, des cours de batterie et des cours de piano pour vous permettre de vous perfectionner dans l'art de la musique. 
Apolline offers singing lessons in Lausanne as well as guitar lessons, drum lessons and piano lessons to help you perfect your musical skills. 
Did you like this article? Here are some others that might interest you: