Art is the soul of education. It can only be learned from the way the mind works and creativity is fundamentally personal...
Apolline knows this and favours individual energies, taking care of the pleasure and the desire of her students, while respecting their inspirations.
This way, they progress in the best way possible, towards their aspiration.
PRESENTATION
---
Apolline is a multidisciplinary art school in French-speaking Switzerland. It offers courses in the cities of Geneva, Lausanne, Morges, Montreux, Yverdon, Neuchâtel, Sion and Fribourg. The three artistic fields taught are visual arts, music and theatre. Thus, you can find here manga courses, comic book courses, illustration courses, drawing courses, singing courses, piano courses, drum courses, guitar courses, music group workshops, theatre and musicals!
Apolline is supported by the teachers who teach there, thanks to the school's system, inspired by a "horizontal" functioning, ensuring a fair income for all.
All the teachers are united by common values such as creativity and the accompaniment of each student as close as possible to his or her needs!
An innovative concept, a clearly defined pedagogical framework
Apolline is resolutely accessible to all and does not limit itself to the teaching of a single artistic field. Thus, students can benefit from the different synergies and bridges built between the different disciplines. We help students to meet, play and create together. With us they go further, they realise their projects and dreams.
The setting and atmosphere are particularly conducive to the pleasure of learning and developing one's creativity, in the full expression of one's own personality. For all that, Apolline offers students and their parents the guarantee of quality teaching, in a rigorous ethic, as close as possible to the needs and motivation of each and every student.
The teachers, for their part, fully adhere to the school's concept and philosophy. They have a vocation and are passionate creatives, their natural desire to innovate is combined with strong pedagogical skills. Their great experience, respect, listening skills and constant attention allow them to constantly monitor the progress of their students. Their unwavering personal ethics make them actors, not followers!
We also attach great importance to the quality of life of our staff. At Apolline, the management of the school is largely participatory. This operating principle, combined with other innovative operating methods, allows us to remunerate the teachers beyond what they could expect in a traditional structure.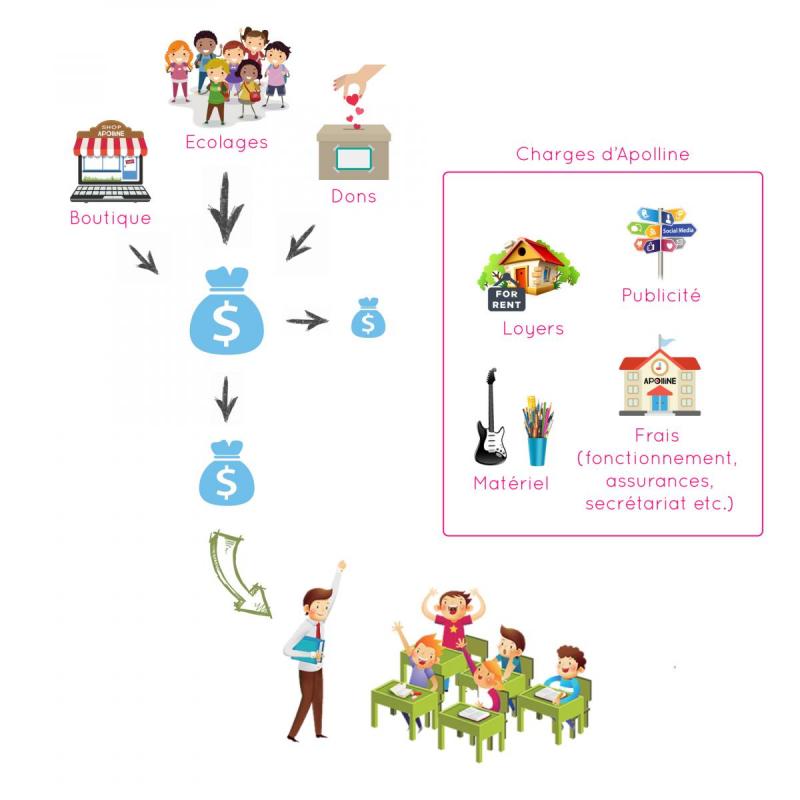 Our Values
---
ACCOMPANIMENT
Beyond simple lessons, we help our students to bring their projects to life and make their dreams come true!
Apolline aims at the enrichment and development of each student on a creative and personal level. For the teachers, the challenge is above all to identify the deepest desires and motivations of their students, in order to accompany them in the most appropriate way. In this way, they constantly monitor the progress of each student.
The School's philosophy goes further than that of traditional structures. Thus, beyond pure pedagogical support, we are committed to concrete measures. For example, students can take advantage of our numerous partnerships, as well as our assistance in the realisation of their artistic project. Click here to find out more.
LIBERTY
Apolline goes further
Apolline is an independent school, free from the constraints of traditional teaching, but within a clear, defined and respected framework. The approach is above all human and reassuring: the student is constantly put in confidence and encouraged to fully express his or her potential, on the path to his or her best achievement.
Each teacher is also free to teach according to his or her own energy, but fully aware of the student's needs, and with respect for the objectives set.
We distinguish between form and content: freedom is not possible without clear objectives, never lost sight of, nor without a rigorous learning programme. This is what guides and motivates us: the results obtained are the only judge!
CREATIVITY
An essential value for the development of each individual
Seeing the student increase his creativity, and therefore his motivation and progress, is one of our essential driving forces!
This is why we resolutely integrate improvisation into all processes and at every stage of learning.  For the teachers, it is a natural quality coupled with a permanent desire.
HUMANITY
To offer fair and optimal working conditions to all our employees.
We attach great importance to the quality of life of our employees and have therefore sought to achieve a highly participatory school management. Each teacher is fully involved in the school's future. This operating principle, combined with other innovative operating methods, makes it possible to remunerate the teachers beyond what they could expect in a traditional structure. The school, for its part, benefits from the skills of all by being directed by a college of concerned and motivated people, making decisions that benefit above all the quality of teaching.