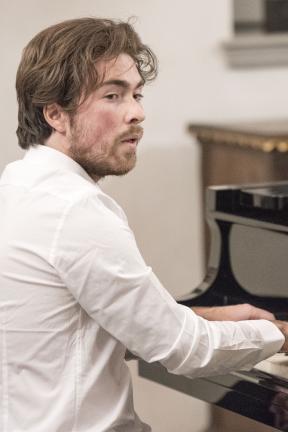 Nicolas MICK was born in 1993 and began learning piano and music at the age of 5 with Joseph Coppey. He also sings in a choir and records with him the album " Croire au père Noël " in 2005. The following year, he entered the Grenoble Conservatory to study writing, analysis and history of music in addition to piano.
In 2011, he enters the Paris National Conservatory where he completes his training with a piano prize in the class of Hugues Leclère and a musical training prize in the class of Jean-Paul Despax. During his period in Paris, he participates in concerts and conferences organized by the association "Musical en Dauphiné" on music and the brain in particular, he also records a duo for a short film and accompanies for extracurricular workshops in the city.
Nicolas will then go on to perfect himself by passing his bachelor's degree with distinction at the Royal Conservatory of Brussels in the class of Johann Schmidt and his master's degree in the class of Pascal Godart at the Haute École de Musique de Lausanne. Since 2016 in Lausanne, Nicolas takes advantage of the setting and the opportunities to multiply his musical experiences, particularly in chamber music through duos and trios, but also by writing, recording, playing in the orchestra... It is very important to him to bring music everywhere and to make it accessible. That is why, in addition to his activity as a teacher, pianist and accompanist, Nicolas regularly animates activities around music in medical establishments.